Programs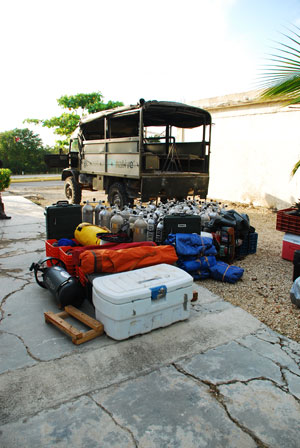 Research supplies are gathered for exploring the Quintana Roo aquifer.
Since 1984, Friends of Mexican Development Foundation has supported an array of programs that foster positive growth and development in Mexico, reflecting the constant concern of Don Miguel Alemán Valdes during his lifetime for the welfare of the people of Mexico. Thanks to the generosity of the Alemán family, 100% of contributions to FMDF are used to support projects in Mexico. While FMDF operates independently of the Fundación Miguel Alemán, the two organizations work closely together to ensure that FMDF grant funds are used appropriately by grantees and reports on the work are received as scheduled.
Over $6 million has been granted by FMDF to projects in the fields of health, the humanities, education, tourism, rural development, disaster relief, environmental conservation and sustainable development, including grants to:
Amigos de Sian Ka'an for scientific research and the promotion of sustainable development in the Mayan Zone and all along Mexico's Caribbean coast.
El Centro Investigador del Sistema Aquífero de Quintana Roo (CINDAQ) for the Ox Bel Ha Water Protection Research Project locating and mapping the subterranean rivers of Quintana Roo in order to provide data for water planning and environmental protection in the region.
Fundación para la Salud y la Educación Dr. Salvador Zubirán (FUNSAED) for expanding the hospital Instituto Nacional de Ciencias Médicas y Nutrición Salvador Zubirán, COVID-19 relief and medical research.
Fundación Trebol de Puebla for the construction and maintenance of a group home for mentally disabled children in Puebla, Mexico.
Hospital General, Mexico City, for cancer research.
Mexican National Reconstruction Fund for post-earthquake hospital and school reconstruction.
Museo San Carlos, Mexico City, for a new stonework façade for the museum.
Lerma Housing Project, for housing and clinic construction for earthquake victims.