Donate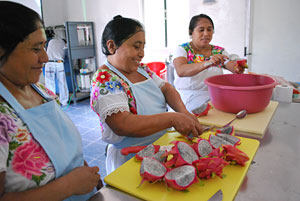 Through Amigos de Sian Ka'an, the Friends of Mexican Development Foundation promotes sustainable commerce in the Mayan communities of Quintana Roo.
Friends of Mexican Development Foundation is grateful to all of its American contributors. FMDF is a 501(c)(3) organization. All contributions are 100% tax deductible in the United States for federal income tax purposes, to the extent permitted by law. Thanks to the generosity of the Alemán family, 100% of all donations is used to support programs.
Donations by check may be made payable to Friends of Mexican Development Foundation and sent to FMDF at:
Friends of Mexican Development Foundation
275 Madison Avenue, 6th Floor
New York, NY 10016
Please note your interest in a particular project either in a covering note or on the memo line.
Donations by credit card may be made on-line at NY Charities. Please note that NY Charities retains 4% of contributions made on-line to cover their administrative costs.
Questions may be directed to:
Emily Grand
Administrator
212-812-4362
egrand@ghspm.com
A copy of the Friends' latest annual report is filed with the New York State Attorney General's office and may be obtained by writing to FMDF or to the NYS Attorney General, Charities Bureau, 120 Broadway, New York, NY 10271.